Lead Generation Strategy
The sales process has become extremely refined in the last decade. Marketers have devised quicker ways to convert leads and push customers to the end of the sales funnel. Today, you no longer need to reach out to your customers in a traditional way; you let them come to you. For example, potential customers find you through your website or online social media presence and sign up with you. This is what lead generation is all about. This post will highlight the importance of lead generation strategy in your overall marketing campaign and help you find out how to utilize it for business growth.
Understanding Lead Generation and Modern Marketing
Dictionary defines lead generation strategy as the process of igniting interest among the potential customers about the company's products or services. Lead generation strategy utilizes various direct marketing channels to create a self-directed buyer process that is essentially a bridge to lead potential customers to the end of the sales funnel.
Led generation strategy holds a prominent place in the overall marketing strategy because it is more than just the promotion for the company's products. In the older days, companies would garner customer information during a trade show in order to reach to customers later. Today, however, companies utilize their own websites and social media pages to generate leads.
Before we go on, let's shed a light on the definition of a sales lead. For those who are a bit hazy about the idea of sales lead, it refers to the prospective customer of the product or service. In other words, a sales lead represents people who have showed interest in your product or service or would like to pay.
The following image shows the transformation of marketing in the past decade. Notice how the focus has shifted from representing company to representing customers. It is no longer about what you want to sell; it's about what people want to buy and lead generation strategy helps you with finding your customers.
Essential Components of a Lead Generation Strategy
Just like any other marketing strategy out there, lead generation strategy encompasses major elements that play a key role in shaping up the overall structure of the strategy. Nothing in marketing has ever been achieved without the interlinked strategies. For overall marketing to deliver the expected results, it is crucial that you have an in-depth understand of all the strategies included in the marketing plan.
Here, we are going to talk about the 5 elements, and essentially the 5 modern marketing strategies, that are included in lead generation strategy. These include:
Content strategy
SEO strategy
Promotion strategy
Conversion strategy
Analytics strategy
The following image shows the sub elements of each component. Here it is important to note that marketing strategies are executed in a meticulous manner in order to make sure that and each every step has been performed. Similarly, in order to ensure that your website can become capable of garnering substantial leads, it is crucial that all 5 strategies have been executed.
The following diagram illustrates the various components that make up a successful lead generation strategy. Notice that everything from public relations to social media matters.
Lead Generation strategy Challenges
Lead generation is an overwhelmingly challenging task. Many marketers, over the years, have tried to clear out the online sale hurdles that make lead generation a difficult goal to accomplish. However, some hurdles remain. Marketers have identified various challenges that lead generation strategy faces today. The most highlighted challenge is to generate quality leads through meaningful content. A thoroughly outlined content marketing strategy can help you overcome this challenge and target your specific audience in order to bring quality leads.
To overcome some of the fiercest challenges of lead generation, you can utilize proven lead generation tactics. The following image illustrates some of the effective lead generation tactics for B2B businesses. Follow the color codes in the image to learn which tactics are the most effective.
4 Steps to Create a Successful Lead Generation Strategy
So, now you know what it takes to build a strong lead generation strategy. Juts to recall, you need to bring together the 5 major modern marketing strategies in place on order to ensure success of your lead generation strategy. Here are the 4 steps that can help you create and implement lead generation strategy.
1. Lead generation Planning
Lead generation planning should include the 5 major elements, but most importantly it should highlight the target audience. Your strategy should establish 3 key aspects:
Define content, SEO, online marketing, analytic research and lead conversion strategy.
Define targets. It's particularly vital to work out the quantity of leads you wish to draw in to attain your sales targets (your conversion statistics can assist you calculate this)
Create the outline for the prospective plan that to devise a road map. The following image can help you devise a specific lead generation model for your business.
2. Inbound/outbound integration
Creating the right integration of inbound and outbound is crucial for a successful lead generation strategy. For those who have a little understanding of these 2 concepts, inbound marketing allows you to use your content to draw the customers instead of reaching out to them.
The following image shows the inbound marketing strategies that make lead generation possible.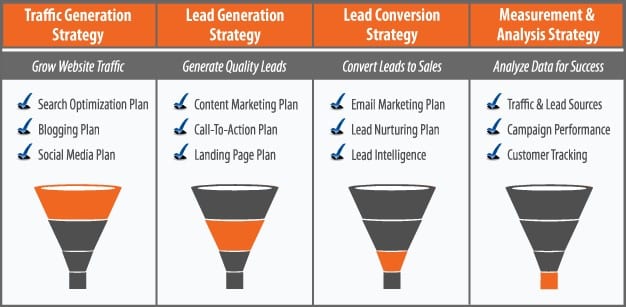 Outbound marketing, on the other hand, is the complete opposite; it's when the company reaches out to the potential customers with its message. Both, inbound and outbound, hold a significant position when it comes to lead generation; therefore it is important to define the inbound/outbound integration to make sure that it is geared to achieve the target.
Learn about the major components of the outbound marketing in the image below.
3. Lead sales management
Effective lead management will ensure that every fresh customer inquiries have been addressed and have a strong possibility of converting into paying customers. Without a proper lead management, you could easily lose substantial leads that could turn into a long term customers.
4. Find the right resources
Only the right resources, such as content specialists, SEO certified professionals, Google analytics experts, will be able to handle the everyday pressure of continuing the necessary work to ensure that all the fundamental strategies have the right execution. When it comes to choosing your team, pick the right person for the job.
Lead generation is a crucial piece of the marketing puzzle. In order to make sure that you get it right, understand the 5 major elements, and follow the process of creating and implementing it. Your company's marketing staff should have the expertise regarding the 5 major elements (content, SEO, analytics, conversion, and promotion) in order to create a successful lead generation strategy.